Hunters Pie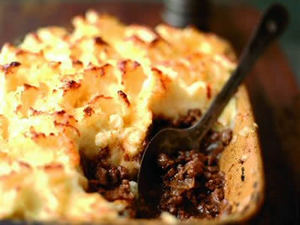 A tasty and healthy alternative to Lamb, Chicken, Beef or Pork
Difficulty: Medium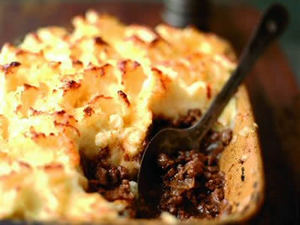 Serves: 4
Preparation: 5 mins
Cooking: 45 mins
Serve with a seasonal vegetables.
INGREDIENTS
2 large onions, chopped
50g butter
750g minced venison
2 cloves garlic, crushed
2 tbsps plain flour
300ml venison or beef stock
1 tbsp tomato puree
3 tbsps Worcester sauce
1 tbsp fresh thyme leaves
Salt and freshly ground black pepper
1 kg freshly mashed potatoes made with butter and milk
50g Lincolnshire poacher or Cheddar cheese
DESCRIPTION
In a large saucepan, cook the onion in the butter until soft and golden.
Add the venison and garlic and raise the heat so the meat browns a little, stirring constantly.
Sprinkle in the flour, stir in well, then add the stock, tomato puree and all the remaining seasonings.
Bubble gently for 15 minutes, season again to taste, then place in a shallow dish.
Spread the mashed potato on top and scatter the cheese over.
Grill until golden brown.
Source: game-to -eat