Low, Clear and Brown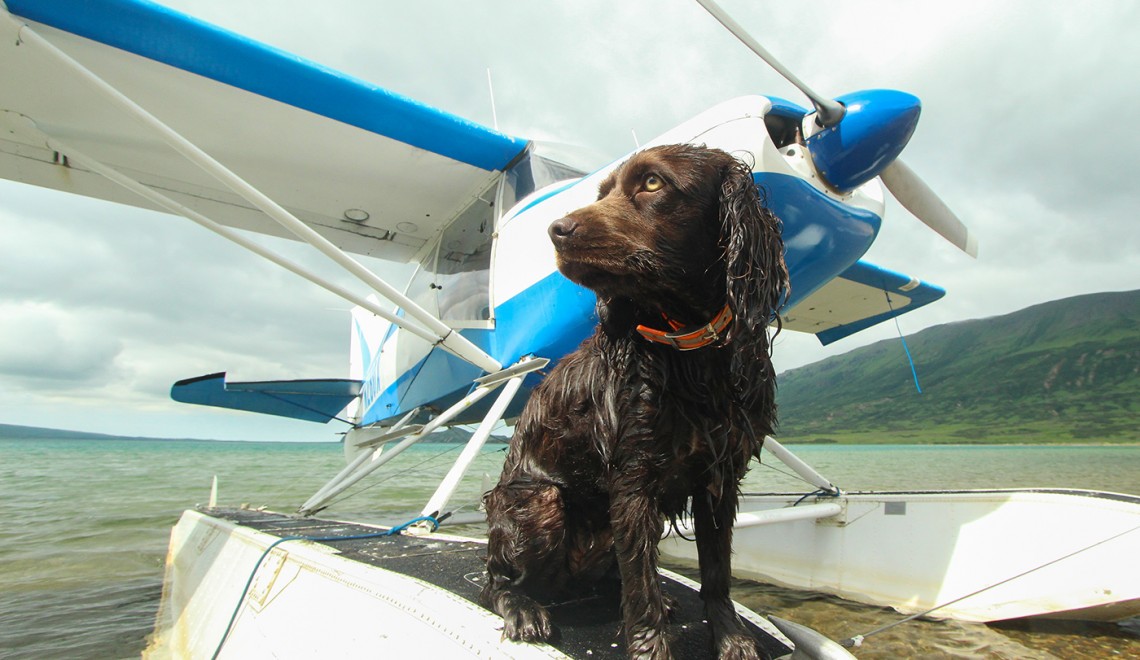 Now every Boykin devotee understands the implication of "brown". Low and clear is also somewhat self evident, but for a pacific coast steelheader it can be a shot to the physique. It is akin to 80 degrees and calm for the duck hunter. Low and clear water entails spooky fish resistant to begin the ascent of their natal river from the salt. Low water, high water, dirty water, clear water, cold water, warm water, no fish, tight mouthed fish, too many fish (yes it can be a problem); us anglers seem to have an excuse for any and every condition possible. But us sportsman and sportswomen always plod on, reluctant to ever accept a lack of birds or fish or the impacts of adverse weather.
An Alaskan spring presents fewer options to the sportsman. Big game hunting is generally closed. Ducks are hundreds of miles south. Most rivers and lakes lie covered in ice. But for steelheaders and wingshooters it can be a highlight of the year. Ptarmigan begin to pair up high in the mountains and steelhead start to enter rivers on their spring spawning run. With generous ptarmigan seasons that extend from August through April, opportunities abound. While mid winter conditions result in a tendency for ptarmigan to flock up in large numbers and move great distances daily in search of food, the spring is the reciprocal. Just prior to the the breeding season and normal May 1st hunting closure, ptarmigan pair up and spread out through the mountains. The result is a nearly consistent hunt of tight holding, flushing pairs every 50-100 yds. Perfect huh? Except remember we always have those excuses, and for the coastal mountains of Alaska that entails 70mph winds, heavy spring snow and ice. These are the reasons I concentrate my angling and bird guiding from June through September. The buffer seasons are for the truly devoted or as most sane people reason, the insane.
For a Boykin whom seems as obsessed with fish as birds this correlates well to her humans' like obsessions. While I am an avid bird and big game hunter my heart always goes back to fly fishing. An unabashed plug here, I've found no where like Alaska for either birds or fish. This spring, in between sojourns into the surrounding mountains for ptarmigan, we took our 1 1/2 year old Boykin, Killey, on a steelhead float trip. A trait that keeps us dry in the duck boat also translates well to angling. Not once on her first week long float did she ever rock the boat. A few times though her animated growling and barking outburts at her avian enemy, the bald eagle, had me wondering if she might break that Boykin selling point. This would have been forgivable though as two weeks prior to our departure she had a near miss with our nation's bird. While throwing bumpers into a ocean tidal slough, a high flying eagle made a dive at the the bumper, instead saw a little brown head feverishly paddling for it and decided, "Hell, that looks more edible". A near miss from talons, wet eagle, wet human, and wet, wide eyed Boykin resulted in Killey's rekindled hatred of the eagle. On a spring Alaskan river where the abundant and diminutive hooligan smelt were also running this means lots of eagles and lots of growling. Back to the excuses however.

The river was at near record lows and what we call spring would be more likely be called winter south of the 50 parallel. Tough conditions aside we did well enough. Every trip presents its highlights for human and Boykin alike. On this trip it was one and the same, my biggest steelhead to date. After spotting what I thought was a decent fish, we pulled the raft to the bank. A half dozen casts later, he was on. All those other angling excuses, "my line snapped", "the hook pulled", "the hook broke", "he broke off on a jump", etc, etc, etc, didn't come to fruition. As I fought him, Killey waited near the bank, mind you not quite on the bank but not quite in the water. Two paws on the gravel and two in the water. As I tailed the monstrous fish she was there instantly at my side ready to lick. While she always gets in her licks in on fish we intend to retain and eat, this steelhead, like all I catch here in Alaska, was getting released. She was allowed a few near licks though and that seemed to satisfy. As the "double bowed" buck steelhead kicked his tail and swam back into the pool, I got that look you get when you miss a bird. "Really? Why?". Two weeks later, on the last day of ptarmigan season the weather was clear, calm and warm.The birds were abundant and held tight to the flush. After Killey's last retrieve of the season we headed down the mountain and home. Summer is fast approaching and the plane needs to get switched over to floats. No excuses. John Hohl owns and operates Alaska Fly Anglers, Inc in southwest Alaska. www.alaskaflyanglers.com