Remembering Stryker, STIFFR's long-time Mascot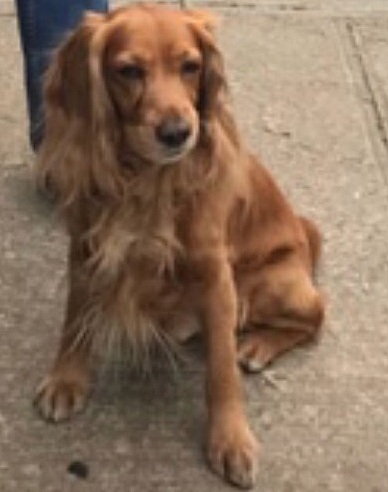 Lamar's Prime Time "Stryker", was born by artificial insemination via Vet in Connecticut.
He is one of six in the litter. A handsome field-bred English Cocker, Stryker turned heads daily, off leash and in Central Park, New York City. He was also a recognized field dog who flushed and retrieved his share of birds. Stryker was the constant companion of our SITFFR Director, Kuni Smith. Stryker spent puppyhood in Millbrook, New York with entire his family for first 3 years with his Dad, "Puppie", who was SITFFR's first mascot. Stryker was always together with his Dad, who protected him all the time. His tender sweet personality probably come from how he was brought up.  Stryker was field trained by Lynn Miller in Franktown, CO, who did an outstanding job!
Millbrook is very much like the country side of England. Stryker was surrounded with Tamarack preserve's hunting fields. Tamarack Preserve LTD, is an upscale, upstate New York shooting club, host to some of the most influential sportsmen and women on the east coast. The president of Tamarack preserve, Ltd., Mr. Tim Bontecou, advisor to SITFFR, owns Sparky who is Stryker's brother.  Kuni Smith, sportswoman herself, made a dedicated effort to provide opportunities for Stryker to do was he was born to do… hunt birds. She loved him dearly. Stryker lived life large, yet saw lots of adventure in the country.
When Stryker's day arrived to cross the Rainbow Bridge and join all of our departed and beloved spaniels and flushing retrievers in the heavenly uplands, his spirt left without even a whimper. He was put to rest on Mr. Tim Bontecou's estate in Millbrook, NY. Stryker is back in Millbrook where he enjoyed his life most and Sparky is there to watch after his loving brother's grave. Stryker is home now, but is a gun dog never to be forgotten!
Oct. 8, 2007 – Oct. 13 , 2022,  5 days after his 15th birthday.