One to One Training – By Chris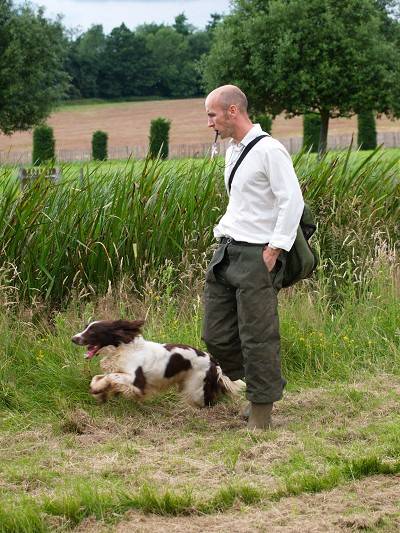 Normally for approximately 1 hour. For this the fee payable is £25 .I assess you and your dog and will run through elements of a training plan carefully structured to suit you and your dog and ensure that you are capable of undertaking the tasks. My job is to teach you who can then go home and practice practice and practice
Then you will return weekly or bi monthly so i can assess your progress and set the next set of lessons. I will also be able to help you 'iron' out any problems. The use of video may be appropriate as well as using other training aids. The ground available for use is very varied and includes water.
Group Lessons
Can be hourly but more effective is a half day in the field. Lunch and classroom facilities can be provided as can an indoor training area. Prices available on request to suit numbers and requirements.
PUPPY CLASSES AND BEYOND
Group puppy classes are held on a Tuesday evening at Judd Wood Farm, just outside of Bidborough. There are a range of classes held, based on age and ability. They start from the real basics at 12 weeks old, whistle use, recall, sit, heel work etc, then follow through up to steadiness, directional work, cold game etc.
Please contact me to find a suitable class. Priced at £5 a session.
Training video in conjunction with Shooting Times