Pan fried Pheasant with Salsa Verde and Saffron Mash
by Mark and Valerie Entzi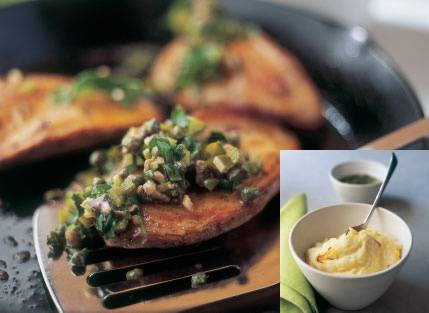 One of our favorites for Pheasant!
Requires one pheasant per person
Ingredients
4 pheasant breasts
2 tbsp olive oil
2 tbsp unsalted butter
salt & freshly ground black pepper
Salsa Verde
2-3 cloves garlic, peeled
1 tbsp capers (if poss non-parareille) left whole
4 pickled gherkins,
6 anchovy fillets, chopped
small bunch flat leafed parsley
small bunch basil leaves
small bunch mint
2 tsp Dijon mustard
3 tbsp red wine vinegar
6-7 tbsp extra virgin olive oil
salt & freshly ground pepper
700g (11/2 lb) potatoes
Saffron mash
milk
salt & pepper
knob of butter
few saffron strands
1. To make the salsa put the garlic, capers, gherkins, anchovy fillets, herbs, mustard and about 1 tablespoon of red wine vinegar into a food processor.
2. Whizz together until roughly chopped. Stir in the remaining vinegar, oil, season to taste. Cover and leave for the flavours to develop.
3. Melt the butter in a heavy based frypan add the oil and heat until nearly sizzling.
4. Season the pheasant breasts with salt and pepper. Put in the frypan and fry for about 2-3 minutes on either side.
5. Infuse a few saffron strands in 1 tablespoon hot water.
6. When the potatoes are cooked, drain well. Mash with enough milk to make the potato creamy. Season to taste and stir in the saffron.
7. Serve the pheasant breast with some of the salsa and mashed potato.