Pheasant Casserole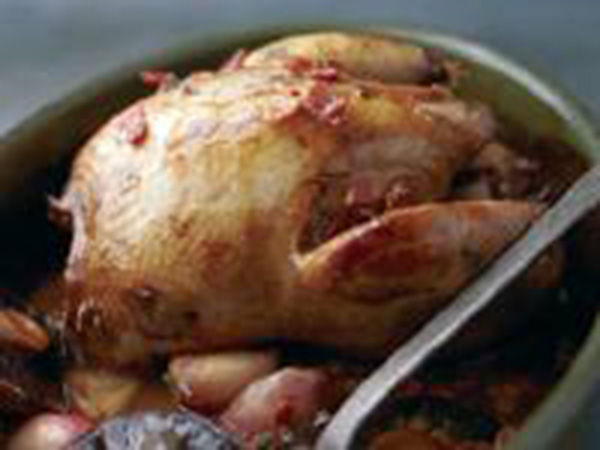 A lovely Casserole for an intimate dinner!
Serves 4
Instead of using whole pheasant, you can allow 1 pheasant breast per person
Ingredients
2 pheasants or 4 breasts
110g (4oz) unsmoked bacon, cut into 3 or 4 pieces
25g (1oz) butter or oil
225g (8oz) shallots
25g (1oz) flour
570ml (1 pint) good stock or chicken stock cube
2 tsps redcurrant jelly
100ml (4fl oz) white wine
Bouquet garni
8 whole field mushrooms
Salt & pepper
Chopped parsley
Notes
Oven 160C/375F/Gas 5
Preparation Time: 20 Mins
Cooking Time: 1 Hours
Melt butter or oil in a large pan and brown the pheasants all over. Remove.
Sauté the shallots and bacon. Remove from the pan.
Add enough flour to the pan to take up the remaining juices. Mix well.
Add the stock, season and bring to the boil to thicken.
Return the pheasant to the pan. Add the shallots and bacon and cover.
Cook in the oven for approx 1 hour or until the juices run clear.
Add the mushrooms about 10 minutes before the end of cooking.
Serving Suggestion
Serve with fresh vegetables and crème fraiche mixed with horseradish.