Red Pheasant Curry
by Mark and Valerie Entzi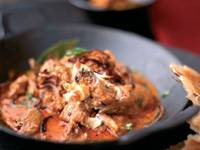 A tasty curry for curry lovers!
Serves Four
An excellent twist on a asian staple
Ingredients
A 2 inch piece of fresh root ginger, peeled and chopped
4 cloves garlic
450ml water
6 tbsps oil
6 pheasant breasts, cut into 1 inch cubes
10 cardamom pods
2 bay leaves
6 cloves
1 cinnamon stick
2 large onions, finely chopped
1 tsp ground coriander
2 tsps ground cumin
3 tsps mild paprika
6 tbsps natural yoghurt
salt and freshly ground black pepper
2 tbsps freshly chopped coriande
Prep Time: 30 minutes
Cooking Time: 30 minutes
Blend the ginger, garlic and 4 tbsps of the water in a liquidiser.
Heat half the oil and lightly brown the pheasant and set to one side.
Add the remaining oil and heat with the cardamom, bay leaves, cloves and cinnamon.
Add the onions, and cook until golden brown.
Stir in the ginger and garlic paste and the remaining spices.
Blend in the yoghurt and return the pheasant to the pan with the remaining water.
Cover and simmer gently for 30 minutes, or until the pheasant is tender.
Season and sprinkle over the fresh coriander.
Serving Suggestion
Serve with the accompaniments:
Naan or paratha bread
poppadums
crisply fried onions and pickles