Sandhill Crane Recipe
By Maria Perez, owner of Wildrose Banyan
Since we learned about the "Ribeye of the Sky," a Sandhill Crane hunt was in our future. Thanks to the help of pack members Todd and Monica Swearingen, we found an outfitter and scheduled our hunt in West Texas.
Pictured Guy and Hattie Billups, Lisa Johnson, Wildrose Cypress, Maria Perez, Wildrose Banyan
You may be asking, "Aren't Sandhill Cranes endangered and protected?" According to the National Wildlife Federation, there are three subpopulations of Sandhill Cranes that are non-migratory. The Mississippi Sandhill Crane is found on the southeastern coast of Mississippi. Florida Sandhill Cranes occur in many inland wetlands of Florida. The Cuban Sandhill Crane lives exclusively in savannas, wetlands, and grasslands in Cuba. Mississippi and Cuban Sandhill Cranes are critically endangered.
We hunted lesser Sandhill Cranes that migrate from the Platte River Basin in Nebraska. With our non-resident, small-game license, and Sandhill Crane permit, we set off for West Texas with Guy and Hattie Billups in our campers. We met the guide at a designated field, helped set up, then got ready. Not knowing what to expect, we were excited like Christmas morning. Cranes started to fly into the decoys around 7:00 am. By 8:00 am, we had limited out. We knocked off two items of Lisa and Hattie's bucket lists. Sandhill Crane hunting and limiting out in an hour. It was an amazing and incredible experience. Will we go back? Heck yes!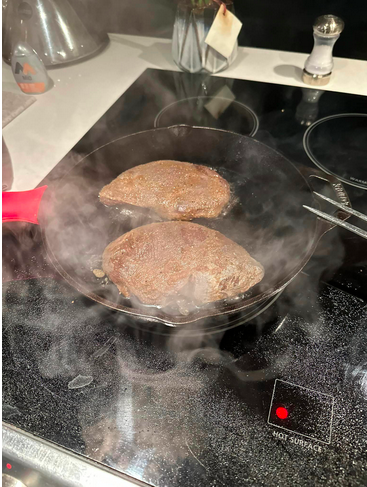 Initially, we planned to hunt the dogs, but after hearing a few stories about how aggressive cranes can be even after you think they are stone cold dead, we decided against hunting the dogs. Instead, we trained with them after the hunt with a couple of birds. It was fun watching the dogs trying to figure out how to pick up such a large bird.
I researched ways to cook Sandhill Crane and finally settled on the recipe below. I hope you go Sandhill Crane hunting and try the recipe below.
INGREDIENTS
2 boneless Crane breasts
¼ cup olive oil
2 tbsp soy sauce
2 tbsp Worcestershire sauce
Juice of 1 lime
1 clove garlic
2 tbsp garlic powder
1 tbsp seasoned pepper
1 tbsp poultry seasoning (I used "Chicken Shit," a spice brand out of Texas) https://shop.specialshit.com/product/chicken-shit/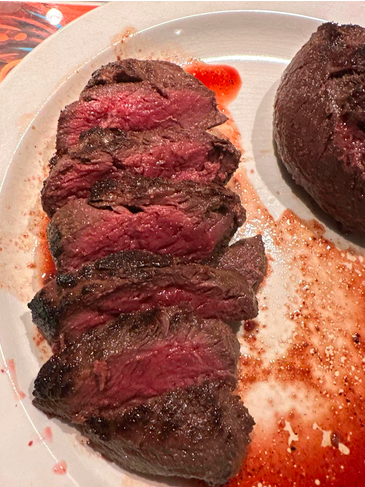 Method of Preparation
Trim the white fat off the breasts, remove any pellets, and as much of the shiny membrane that is on one side.
Combine the olive oil, soy sauce, Worcestershire sauce, lime juice, garlic, salt, pepper, and poultry seasoning in a large bowl.
Marinate the meat in this for anywhere between 4 to 48 hours. (I did 48 hours and massaged every 8 hours to ensure even coating)
Heat a cast iron skillet with oil, sear each side of the meat for around 5 minutes.  Aim for a meat temperature between 135–140 degrees.This timing produces a medium-rare steak. You may increase or decrease it as per your requirements. Caution: Too medium toughens the meat.
Let the meat rest on a plate covered with foil for about 5 minutes before serving.
Slice and serve with a baked potato and salad.