Thai Pheasant with Glass Noodle
by Mark and Valerie Entzi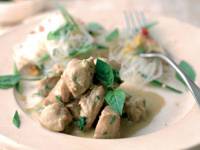 A wonderful, quick supper. Servers 4.
Ingredients
6 pheasant breasts, cubed
3 tbsp sunflower oil
50g Thai green curry paste
400ml coconut milk
3 tbsps fresh coriander, chopped
Glass Noodles
200g bean thread noodles
2 tbsps sunflower oil
small piece root ginger, grated
1 clove garlic, crushed
1 small fresh chilli, finely sliced
1 tbsp thai fish sauce (nam pla)
2 tsps caster sugar
3 tbsps lime juice
1/2 tsp chilli flakes
2 spring onions, finely sliced
A handful of Thai basil leaves
Cooking time: 20 minutes
Fry the pheasant cubes for 5-7 minutes in a wok or large saucepan until cooked.
Drain off any remaining oil, then stir in the curry paste and coconut milk.
Simmer gently for about 8 minutes.
Then stir in the coriander.
Meanwhile soak the noodles in warm water until soft, then drain well.
Heat the oil and fry the ginger, garlic and chilli for a minute.
Add the fish sauce, sugar, lime juice and chilli flakes.
Stir in the noodles. Add the spring onions and basil.
Serving Suggestion
Serve at once with the cooked pheasant.