THE KENNEL CLUB ENGLISH SPRINGER SPANIEL CHAMPI0NSHIP JANUARY 21/22/23 2016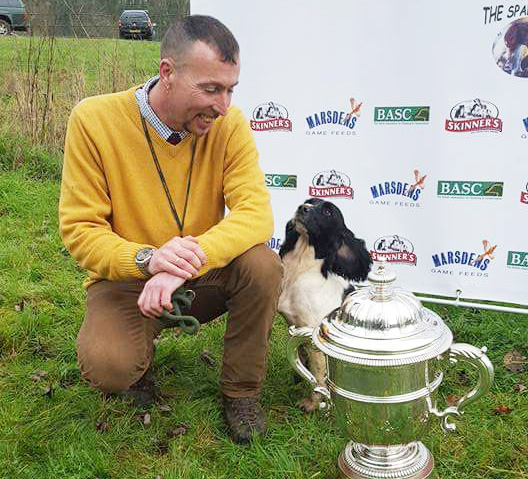 BY VERY KIND PERMISSION OF LORD AND LADY VESTEY @ STOWELL PARK, GLOUCESTERSHIRE
Judges: Jeremy Organ        Jeff Rayner Will Clulee    Tim Crothers
From Day 1 the entire Championship ran very smoothly and has been widely acclaimed as a great success.
The Head Keeper, Mr Eddy Graves, MBE has previously hosted an annual field trial at Stowell run by The Westward Gundog Society [WGS] which began in 1995 with the first Judge being Mr Jack Davey – a former member of The Kennel Club [KC] Field Trials Sub-Committee. Although this event is so much bigger in all aspects than a standard Spaniel Field Trial he was in total calm command throughout the three days. Eddy welcomed the opportunity to introduce his guns and also talk about the plan for each day and also make concluding remarks at the end of each day – this was very refreshing as many keepers prefer to keep in the background.
The Spaniel Club [SC] was greatly assisted by Sally Jenkins, [SC Committee Member appointed March 2015] the secretary of
the WGS who was able to provide many valuable local helpers, and knowing the ground and Eddy Graves very well, worked as an excellent link between Eddy and everyone else. Local knowledge and assistance is so important to the success of a National Club which runs its' events throughout the UK.
Lord Vestey welcomed everyone at the beginning of each day within the opening speeches in the main marquee and was out all day, every day, thoroughly enjoying himself – chatting to everyone and indeed at one point commented that he was seeing parts of his estate that he had not seen for many years! On Day 2 & 3 he brought along his house guests Colonel Johnnie Clavering and Jennie. Colonel Clavering will be known to many as, for nine years, he organised the Gundog Working Test at the Scottish Game Fair @ Scone Palace. Lord Vestey has had working B/W Springer Spaniels for over 30 years which demonstrates his interest in the breed.
We were in hilly mixed woodland throughout the Championship with the game coming to hand very steadily giving all dogs ample time to prove their hunting ability in brambles, bracken and other woodland cover. The team of very experienced guns shot very well which is so necessary for success. The Picker-Up was Sarah Chichester, with a Labrador Retriever and L/W Springer Spaniel – Sarah herself won the 1995 IGL Retriever Championship @ Drumlanrig. Sarah had very little to do and the final bag was:
147 Pheasants
4 Partridges
6 Woodcock
2 Hares
1 Rabbit
Total 160
Chief Steward Steve Russell [SC FT Sec]
Judges' Stewards – Martin Ashman and Paddy Morley [SC Comm.]
Dog Stewards – Nigel Dear [KC} and Jim Briggs [SC Comm.]
Flag/Parking Stewards – Bob Aldenton [Day 1] and a variety of helpers and SC members and SC committee for 3 days
Game Carriers – Maddy Chichester, Liam Mulcrow [SC Comm.] Paul Gascoyne and Richard Preest [Cocker Ch. Winner]
Due to the stable weather conditions, the steadiness of the game coming to hand and the good shooting we were able to get through the entire first round on the first day – making Day 2 & 3 so much easier finishing on Day 3 before mid-day giving ample time for the presentation preparations – no rushing around.
Bob Aldenton [SC VP] took control of the Spectators and Flag men the first day, having had vast experience in this role, which set them up for keeping the Spectators under strict control for the remaining two days.
Viewing for the spectators varied greatly due to the woodland but we are there for the dogs and this is a difficulty with this type of terrain. The Parking was well organised around the HQ marquee with "Eat Wild" selling a variety of hot food at the beginning and end of each day and Skinners providing free teas and coffees and hot soup in the main marquee.
All the staff of Skinners, our main outside sponsors, Greg Panter [Man. D], Will Delamore [Mark. D], Michael Marjoram [D] and Beth Colne [SW Rep.] worked hard every day carrying the number board, selling raffle tickets, hosting other sponsors etc. – they were a tower of strength. Each day we were pleased to welcome representatives from our two new financial sponsors, Marsdens' Game Feeds and BASC – as with all official guests they were able to be "up front" and we are encouraged by their obvious interest which we hope will continue. Marsdens' had their own marquee at the side of the HQ.
A Raffle was run each day in the main marquee and 70 people attended the dinner at the Cheltenham Park Hotel on the Friday evening where an auction, running for the 2nd year, raised £850.00. This was an informal evening with Lord Vestey saying Grace at the beginning and Will Delamore [Skinners] running the auction providing a lot of fun.
Before the Presentations began the Chairman, Anne Greeves, gave her profuse thanks to the SC Committee who worked as an excellent team all year to make this event such a success – in particular the Secretary, Mrs Liz Russell supported by her husband Steve [SC FT Sec] plus all the usual thanks to Host/Sponsors/Local Helpers and much more.
All the results are on the SC web site with the hugely popular win by an Irishman, Mr L Rice with another Irishman. Damien Kelly Third – it is several years since the award "went over the water". Mr Wells was 2nd and 4th with 21 Diplomas of Merit. Mr Rice's speech was absolutely lovely – one of the best yet, he was so overcome and, shaking with excitement, the words just rolled out in that lovely smooth Irish way. Lord Vestey presented the majority of the awards/trophies and was very amused when Mr Rice said to him, having seen him on a daily basis walking in the line, that he did not even realise he was the owner of the Estate! Representatives of Skinners, Marsdens and BASC also presented one trophy each.
The Spaniel Club presented Lord Vestey with a very special carved wooden grouse and Eddy Graves a carved woodock head shooting stick.
All the photographs taken by Mr Paul Rawlings the SC official photographer are on the SC web site and Mr Paul French will be producing a DVD of the event in the usual way.
The Red Cross were in attendance and had to deal with a lady with breathing difficulties and another lady who had been hit by a deer. None of which were emergency situations and were quickly resolved.
All in all an all-round success and we look forward to going to Harvington, Worcs on Jan. 9/10/11 2017. Mr Steve Smith of Harvington was with us each day at Stowell.
Anne Greeves
Chairman SC
2016 English Springer Spaniel Results

| | |
| --- | --- |
| Winner: | Louis Rice's Int FTCh Siiabh Treasure |
| 2nd Place: | Richard Wells's FTCh Dawsonlee Domino |
| 3rd Place: | Mrs M Carragher's FTCh Lisgarvagh handled by Mr D Kelly |
| 4th Place: | Richard Wells's Pitrahh Dirty Angel |