Warm Partridge Salad
by Mark and Valerie Entzi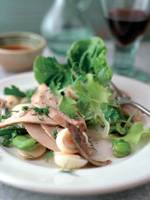 A lovely salad for an appetizer or entrée
Serves 4-6
Ingredients
4 partridges, roasted and kept warm
250g broad beans, shelled
250g French beans, topped and tailed
420g can butter beans, drained and rinsed
2 Little Gem lettuce
A good handful of mixed salad leaves
1 tablespoon capers
6-8 anchovies, chopped
8 quails eggs, softly boiled, shelled and halved
2 tbsps chopped flat leaved parsley, chives and dill
Freshly ground black pepper
Dressing
1 tsp dijon mustard
1 clove garlic, crushed
1 tbsp red wine vinegar
4 tbsps olive oil
Cook all the beans in lightly salted water until just tender, drain well.
Whisk the dressing ingredients together and stir into the warm beans.
Serving Suggestion
Arrange the lettuce and salad leaves on a flat plate, spoon over the beans.
Slice the partridges and arrange over the beans with the capers, anchovies, eggs and herbs.
Season well with black pepper.